Solchem Global Service
We offer a global service from the original idea to bring onto the market the finished product, taking care of every stage of the product development.

The R+D department of Solchem offers a comprehensive service from the initial concept to the marketed product, according to the particular need of the customer. Solchem can act as a consultant on different stages of new food supplement developments.
Know where and how Solchem can help you!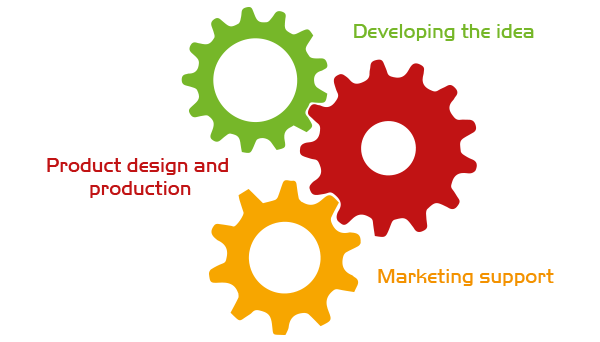 Developing the idea
Main stages
Idea of product application
Searching novel materials as "Premium" ingredients
Formulation proposal
The main idea can come from the customer or it can emerge during a workshop meeting. From that moment, there will be a detailed study based on several factors: product application, legislation, market trends, competition or other successful cases.

The study will determine our best proposal of ingredients and optimal product formulation.
We try to offer, at least, one PREMIUM ingredient, which means an ingredient with high added value: scientific and/or clinical studies, standardization in special actives, among others, on which it would be possible to offer a solid product.

After the study, Solchem will propose to the customer a well-documented formulation to be used as a basis for the development of the project.
Product design and production
Main stages
Product design production:
Sale channels
Dosage
Customer type
Target price
Investment
Quotation proposal:
Pilot batch
Industrial batch
Once we have agreed on a formulation with the customer, it will be necessary to look for the ideal presentation where dosage, quantity per unit of sale and packaging represent an important part of the success of the product.

These parameters are decisive because they are influenced by sales channel, target customers, market price, dosage, competitive products...

After that, the need to conduct a Galenic test or a trial batch can be decided, determining in that case what the optimal size of the test should be. Once manufactured, additional stability tests can be made if necessary. At the end, the customer will have a semi-finished product in bulk or, if he wants, a complete finished product ready for sale.
Marketing support
Main stages
Information about Premium ingredients
Commercial and technical description of approved formulation
Training workshops for Sales force
Our work does not end when the project is finished and the product is on the market. Our desire is to help our customers in every way we can to promote their products.

To do that, we collaborate closely with the customer getting the key points and competitive advantages based on PREMIUM ingredients used. We help in the creation of technical and commercial presentations about the product and we can even provide training support to the commercial staff.

Solchem goes beyond the simple production of a product. We are involved in its release and try to participate in the success of our customers.
Contact us